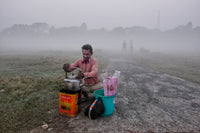 Introducing Kolkata Chai Company — Chai Musings Vol. 1
Our train pulled into the station. It was either New Delhi or Jaipur, I can't remember. I recall stepping out into the sweltering heat with my father. I must have been ten or eleven. Indian Railways trains are old, hunkering machines and it groaned and spewed at the station as it was force-fed diesel and tuned up. My father and I walked around and I asked him hundreds of questions about the station, our trip and the country in general. Soon enough, a boy no older than I at the time came up to us with a steaming, rusted kettle, his body straining under the weight, his hand clutching a dirty towel as to not burn himself. He held a basket of clay cups in his other hand and wore a triangular paper hat. "Chai?" he asked. I watched him pour the frothy elixir and sipped it slowly. That's the best cup of chai I've ever had.
Chai (or Cha in Bengali) has been a daily ritual since I can remember. During family trips to Kolkata, we'd all gather around the table in the evening and have tea, biscuits and adda. We'd share stories, gossip and often end up in loud, heated discussions, all the while sipping piping hot black tea from Darjeeling or Assam and mixing it with copious amounts of milk and sugar — a vestige of colonial practices. When we felt like going out, we'd head to Maharani's on Sarat Bose road where the masala chai is so good that locals claim they put drugs in it to create chai addicts. In the winter, chai became medicine as we added freshly grated ginger to sting and chase out sore throats and coughs. Even to this day, my mother still sits down every evening and makes herself and my father a cup of tea. Chai was everywhere. It was a connective tissue to my culture back in Kolkata, a universal language. It signified warmth, welcoming, discourse and most importantly, home.
Kolkata Chai Co is an attempt to synthesize the tastes and feelings I had as a child and bring them to you. We strive to make masala chai the way our parents made it back home — Assam tea with freshly crushed spices, organic sugar and local whole milk. As a result, we value culture and sustainability in everything we do.
We understand that chai has a complicated history of colonization. We will never call it "chai tea". Our diasporic roots result in a deep respect for the people, ingredients and traditions that help make every cup. This blog will be a sporadic journal as we navigate our culture's recipes, the food business and scale a company in 2018. I hope you'll join along.
Ayan Sanyal is cofounder of Kolkata Chai Co.