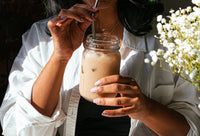 Tips & Tricks To Adjust The Flavor Of Your Chai
One of the best aspects of our chai mix is the ability to customize it to your liking. Whether you're into a bold and robust brew or prefer a more delicate flavor, adjusting the strength and flavor of your chai is easy.
For a stronger cup of chai:
Add an extra teaspoon of chai mix and let it boil for 1-2 mins more before adding milk.
For a milder cup of chai:
Use slightly less than the recommended 3 teaspoons and reduce the boil time by 1 minute before adding milk.
For a spicier chai:
Add our Organic Green Cardamom pods and Organic Ginger Powder during the boil and let them steep longer after adding milk. Make sure to strain them out before you pour your final cup.
For a floral chai
Add our Herati Saffron to your cup after straining and let it melt and infuse with the hot chai before sipping.
Feeling creative? Try different combinations of ginger, cardamom and saffron to see suits your palate best. Let's toast to your perfect cup.