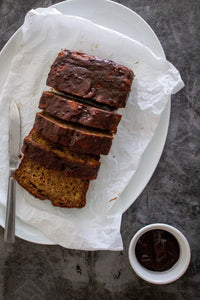 Ingredients
For the bread:
2 tbsp Kolkata Chai DIY Chai Kit

3/4 cup Water

3 very Ripe Bananas, mashed

1/2 cup Butter

1 cup 2% Greek Yogurt

2-1/4 cups All-Purpose Flour

2 Eggs, lightly beaten

1 tspb Baking Soda

1/4 cup packed Dark Brown Sugar

3/4 cup Sugar
For the chocolate sauce:
1/4 cup unsweetened cocoa powder

1/2 cup sugar

¼ cup cold water

1 tspn vanilla

A pinch of salt
Instructions
1. Preheat oven to 350 degrees F. Line a loaf pan with parchment paper and grease the inside of the pan to prevent sticking.

2. Bring the water to a boil in a small saucepan. Add the chai mix and rolling boil brew for 3 minutes. Turn off heat and let th tea steep for 6-8 minutes. Make sure you end up with 1/2 cup tea.

3. Add the sugars and butter and return the pan to the heat. Cook until the butter and sugars have melted into a thick syrup, about 2 minutes. Let cool.

4. Combine the yogurt and baking soda in a large bowl. Let stand for 5 minutes. Stir in the cooled tea syrup and the eggs. Sift in the flour and fold gently to combine. Fold in the mashed bananas.

5. Pour the batter into the greased loaf pan.

6. Bake for 1 hour and 15 minutes, or until a toothpick inserted into the center of the bread comes out clean. Allow to cool completely before slicing. Pour chocolate sauce over the loaf or feel free to serve it on the side.
For the chocolate sauce:
1. In a saucepan, whisk together the cocoa and the sugar until all lumps are removed. Add the salt and the water and bring to a boil over medium to medium-high heat.

2. Reduce to a simmer; stirring constantly. Simmer for about 30 seconds and then remove from heat. Let cool and then add vanilla. The sauce will thicken as it cools.