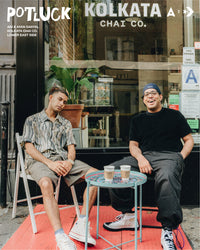 How We Changed The Game Forever: Reflections on Our 2 Year Anniversary
I still remember the way the number "5" jumped off the piece of paper at me. It was March 2019 and my brother and I had just signed a lease for our Kolkata Chai cafe location in Manhattan. Customary to most commercial leases, we had agreed to a 5 year term. 5 years as first-time restauranteurs in New York City? What did that look like? Would anybody even show up after we opened? How would these 5 years change us?
Some of those questions were immediately answered after our fairytale opening night in September of that same year. Between the 800 people lining up for chai, Mindy Kaling showing us love on Instagram and being the talk of NYC, we had put the flag down for our culture in an undeniable way. But the work was just starting.
The first six months of operating the business was considerably more challenging than my brother and I had anticipated. It wasn't that we hadn't dug our heels in, it was that we were in completely uncharted territory. We didn't realize how well capitalized you had to be to start an operation in NYC. We thought that we would be able to grow based off what we profited every month. First mistake.
Then, we hadn't anticipated the effects of winter weather on foot traffic and were spending too much on labor in comparison to our sales volume. Second mistake.
As February crept around, we were scrambling to figure things out and didn't have enough cash in reserve to ride out any unanticipated surprises. And then COVID-19 hit New York City.
Navigating 2020 was both a nightmare and a gift. I say the latter because it taught us how to be true operators while facing unprecedented headwinds. We couldn't stomach the idea of Kolkata Chai failing — the business was an immense source of pride for our entire family and closing down six months after opening would be heartbreaking.
Being first time restauranteurs, we operated with a certain naivety throughout the pandemic. For better or worse, that lack of awareness allowed us to problem solve based on our instincts rather than through a "traditional" approach. As well established, iconic institutions toppled around us — Le Pain Quotidien, Odessa, Hop Shing — we stayed as proactive as possible. We had built our brand on the strength of our community and despite the challenges, we wanted to continue to serve them. From doing deliveries, to launching an eCommerce product, to hosting virtual trivia nights, to an iconic ice cream collab, we kept finding ways to provide escapism for people through food and drink during this time. By capturing people's attention, we kept them engaged and invested in our story.
This strategy paid off as our eCommerce business exploded and built our cash reserves up enough to make it to the end of the year. This was a small prize in relation to the price we paid for it. The toll that 2020 took on our emotional and mental health is something that we're still reconciling. I lost a lot of the joy and imagination that I had entered the business with and was now forced to look at every day as survival. Survival makes you focus on necessity and that isn't the way for a business rooted in community and creativity.
Though we imagined a "post pandemic" world to surface in 2021, the reality is we're not there yet. The pace of these past 18 months has made it difficult for me to reflect on how we went against all odds and put on for our culture and community. We started Kolkata Chai with the idea to reclaim a piece of our tradition that had been misrepresented by outsiders and I've never taken the time to acknowledge that we really did that. Until now.
With it being our two year anniversary, I've compiled a few lessons that I've learned along this journey as a framework for people who are considering taking a similar step in building something from the ground up. To quote the late Nipsey Hussle, "I'll say it's worth it, but I won't say it's fair."
Don't wait for permission, validation or funding
We tend spend a lot of time thinking about what we don't have before starting a new endeavor. When we started Kolkata Chai, my brother and I came into the game with no formal advisors, zero financial backing or any rich uncles to guide the way. What we did have was an insatiable desire to put our culture on the map and the intangibles around grit, guts and desire. That's the only permission you need to start something. If you happen to have a strong support system (funding, mentors, etc) then that's just more ammunition for you to succeed but don't let it be a barrier.
2. Do things that don't scale
This might sound like generic startup advice, but the truth is in the world of food & beverage, every customer interaction is a chance to listen, learn and improve. The only way to do this is to spend time with your community and the people who consume your products. Whether it's through surveys, social media or simply talking to them in person, every data point allows you to serve your customers better.
3. You can't buy culture — you have to actually live it
One of the biggest proof points for Kolkata Chai was watching how established Indian restauranteurs in NYC acted after we launched. Some wanted me to assist with their marketing (which I respected) while others tried to poach my content team (which I didn't), but it was clear that we had struck a nerve. However, most people were only interested in finding a shortcut to tap into the South Asian/diaspora psyche like we had. Very few of them actually wanted to make investments in the community by supporting creators, hosting events, telling their own story and finding their lane. This illustrates the fundamental point that you can't buy your way into culture, you actually have to live it and come from it. If you're looking to start anything that is rooted in your culture, take the time to identify what that means to you and how you intend to build a community around it.
As we kick off our third year(!) of operations, I'm hoping to rediscover that sense of imagination that helped guide us to this point. Even now, every day of this business still feels like "Day 1" to me, which is encouraging because it reminds me how much there is to learn and improve.
To everyone who's played a role in our survival, I am forever grateful. To our incredible team of chaiwallahs, creators, marketers, fulfillment and customer support folks — you guys are the backbone for everything we do. To our community around the world, this only exists because you do! Thanks for getting us get here. There's way more to come.
If there's any way I can help you or your endeavors, shoot me an email at ani[at]greenroomcreative.co. Cheers.