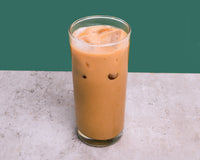 Ingredients
4 oz KCC Concentrate
1 1/2 oz Rum (we use Bacardi Gold)
2 oz Milk or Non-Dairy milk
0.5 oz or 3 tsp of Brown Sugar Simple Syrup
Instructions
For the Brown Sugar Simple Syrup:
1. Combine a 1:2 ratio of hot water to brown sugar.
2. Mix.
For the ChaiChata:
1. Fill a bar shaker with ice.
2. Add all ingredients to the bar shaker.
3. Shake for 10 seconds.
4. Strain and pour over ice in a tall glass.
This works great with oat milk to create a refreshing non-dairy alcoholic drink for the summer!