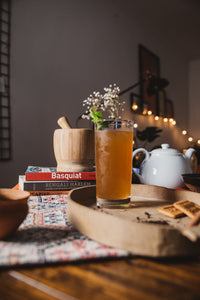 Ingredients
Kolkata Chai DIY Chai mix (5.5 tsp or 20 g)
Minced ginger (2 heaped tsp)
Water (1 qt or 32 fl oz)
Ice
Milk (whole, oat milk or almond milk)
Sugar or Sweetener
Instructions
1. Take 20 grams of Kolkata Chai DIY Chai mix and ginger and place in a plastic, heat resistant container (32 oz).
2. Fill it up with 2 oz with hot (but not boiling) water and brew for 5 min.
3. Add one scoop of ice (4-5 cubes) to stall brewing process.
4. Add up to 1qt water and refrigerate for 12-18 hours.
5. After pulling it out of the fridge, serve over ice and add milk/sugar to taste!