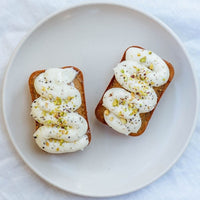 Ingredients
Concentrate
Cake
1 cup all-purpose flour, sifted

1/2 tsp baking powder

1/8 tsp salt

1/2 cup sugar

6 tbsp butter

1 egg, room temperature

1 tbsp honey

1/8 tsp vanilla extract
Buttercream (Optional)
1/2 cup unsalted butter, room temperature

1/2 cup powdered sugar, sifted

1/4 tsp vanilla extract

Pinch of salt

2 tbsp heavy cream, cold

1/4 tsp ground cardamom powder
Instructions
1. Preheat oven to 350 degrees F and grease mini loaf pan or any other oven-proof pan.
2. Concentrate: In a small saucepan, boil milk. Once boiled, reduce heat and add in chai mix. Simmer for around 4 minutes or until chai concentrate is a deep brown color. Remove from heat, strain the concentrate into a different container, and let cool for at least 10 minutes. (We'll be using 1/3 cup of the concentrate so feel free to save any remaining amount.)
3. Cake: In a small bowl, sift the all-purpose flour, baking powder, and salt, then set aside.
4. Using the paddle attachment of a handheld or stand mixer, beat in sugar and butter on high until it is smooth and pale yellow in color (roughly 3-4 min). Scrape down sides of the bowl and beat in egg on high until fully combined. Mix in honey and vanilla.
5. Next, alternate adding in the flour mixture and cooled down chai concentrate in thirds until the batter is fully incorporated.
6. Pour batter 3/4 of the way to the top of your loaf pan and bake for 20 minutes. Insert toothpick or small knife into center of cake to check if it's done. Allow the cake to rest for 10 minutes before transferring to a wire rack to cool further. The cake should be fully cooled before frosting it.
Buttercream (Optional): Using a paddle attachment on a stand mixer, beat butter on medium for 4 min or until smooth. Beat in sifted powdered sugar, vanilla, and a pinch of salt on medium high for 3 minutes until it is evenly incorporated, light, and fluffy. Add in cold heavy whipping cream and beat on medium high until it is fully combined. With a spatula, stir in ground cardamom.
To frost the cakes, fill a piping bag with a round tip or a Ziploc bag with a corner cut off. Position the bag on top of a cake and pipe frosting in a zig zag pattern. Garnish with ground cardamom and chopped pistachios.