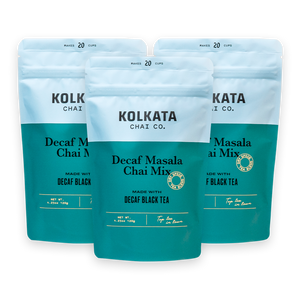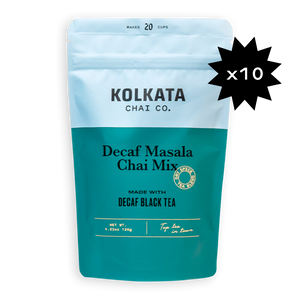 BUY IT WITH
What is
MASALA CHAI?
Chai is a combination of Black tea, milk and spices which are brewed together over low heat, native to the Indian subcontinent. With our Decaf Masala Chai, every cup is packed with natural antioxidants, immune boosting ingredients and caffeine free black tea that replicates Assam's best for better healing and living.
Make The Perfect Cup of Chai
made in 5 min
Watch the video
Make The Perfect Cup of Chai
made in 5 min
Boil 1 cup water, add 3 tsp chai mix and fresh ginger (optional)

Simmer for 3 min, then add 1 cup milk

Boil, steep for 3 min, strain & sweeten
Watch the video
What's in my Chai?
Organic Black Tea

Originating from China, this decaf black tea closely replicates the malty flavor of Assam black tea.

Green Cardamom

Derived from seed pods of plants in the ginger family that creates a warm, herbal flavor. Packed with natural healing properties.

Black Pepper

This common household seasoning gives chai heat and freshness.

Cloves

Collected as dried flowers of the clove tree, cloves are packed with antioxidants and inflammation reducing properties.

Cinnamon

Containing antioxidants, cinnamon provides a floral and fruity flavor to a cup of masala chai.
This chai is so easy and tastes so good, definitely beginner friendly. It's especially delicious with oat milk!
I am a huge fan of this chai mix. Tastes so authentic and feels like I'm back in India.
There's something special about brewing it yourself as opposed to pouring a mix from a carton and heating it up.
Is shipping free?
Shipping is free for orders over $45. The discount is automatically applied at check out!
Does the chai mix ever expire?
Nope! As long as you seal them properly, our DIY Chai Kits stay fresh for up to 6-8 months. After that, you might lose a little freshness but they won't ever go bad.
How do I make a cup of chai?
Making a cup of chai is a simple process even if you've never done it before. All you need is milk, water, fresh ginger and a strainer. You can follow the directions on the back of every DIY Chai Kit or watch this instructional video.
Where do you source your tea?
Our tea is currently sourced from the Bhubrighat Estate, in Assam, India. This estate is certified bio-organic, Fair Trade and UTZ certified.
I don't drink milk - Can I still make chai?
Yes! For a delicious non-dairy chai, you can replace the milk component with either oatmilk (our favorite), almond milk or soy milk.
What makes your chai mix so special?
Simply put, quality and flavor. We go the extra mile to source the best ingredients and have created a flavor profile that is generous on the cardamom and spices.
Decaf Masala Chai Mix
Sale price

$65

Regular price
Add to cart