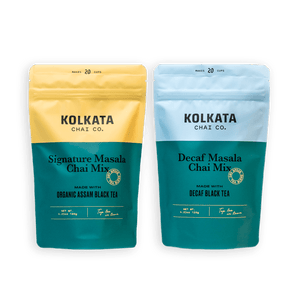 BUY IT WITH
What is
Masala Chai
Chai is a combination of Black tea, milk and spices which are brewed together over low heat, native to the Indian subcontinent. Every cup is packed with natural antioxidants, immune boosting ingredients and a slow releasing form of caffeine for better healing and living.
Make The Perfect Cup of Chai
made in 5 min
Watch the video
Make The Perfect Cup of Chai
made in 5 min
Boil 1 cup water, add 3 tsp chai mix and fresh ginger (optional)

Simmer for 3 min, then add 1 cup milk

Boil, steep for 3 min, strain & sweeten
Watch the video
What's in my Chai?
Assam Black Tea

Our CTC tea is organically sourced from the hilltops of Assam. CTC means it's "cut, torn and curled" into granules for a stronger blend that cuts though for our signature chai flavor.

Green Cardamom

Derived from seed pods of plants in the ginger family that creates a warm, herbal flavor. Packed with natural healing properties.

Black Pepper

This common household seasoning gives chai heat and freshness.

Cloves

Collected as dried flowers of the clove tree, cloves are packed with antioxidants and inflammation reducing properties.

Cinnamon

Containing antioxidants, cinnamon provides a floral and fruity flavor to a cup of masala chai.
Chai or Coffee?
Item
Caffeine (8oz cup)
Flavor Profile
No Caffeine Crash
Detoxifies Your Body
Boosts Immunity
chai
50mg
Natural and subtle with fresh spices
👍🏾
👍🏾
👍🏾
coffee
120mg
Customized with syrups
This chai is so easy and tastes so good, definitely beginner friendly. It's especially delicious with oat milk!
I am a huge fan of this chai mix. Tastes so authentic and feels like I'm back in India.
There's something special about brewing it yourself as opposed to pouring a mix from a carton and heating it up.
Gift Subscription - Day & Night Combo
Sale price

$96.90

Regular price
Add to cart